Jimbaran, a picturesque coastal town in Bali, is renowned for its stunning beaches, breathtaking sunsets, sumptuous seafood, laid-back atmosphere, and much more! As the sun dips below the horizon, this tranquil town also offers various excellent nighttime activities.

So, if you are wondering what to do in Jimbaran at night, check out the following seven exciting options to explore after dark!
Indulge in beachfront dining
When pondering what to do in Jimbaran at night, indulging in a romantic beachfront dinner is a must. The charming coastal village is famous for its seafood restaurants that line the shore.

Picture this: a candlelit dinner, the gentle sound of waves, and mouthwatering seafood dishes. Plus, here is a cherry on top of your sundae: all the seafood is freshly caught by the local fishermen of Jimbaran.

And don't worry! If you are not exactly going for romantic vibes, beachfront dining still ranks high on the list of what to do in Jimbaran at night. The atmosphere, seafood, and tranquil vibes create a dining experience to die for, whether you want your dinner to be romantic or not.
A cozy dinner at ASAI Cafe
After a day of exploring the island, why not relax with a casual dining experience at ASAI as you plan your next excursion. ASAI Cafe offers the perfect sanctuary to top of your list of what to do in Jimbaran at night, serving a variety of comfort dishes to satisfy your body and soul.
From al dente pasta, healthy salads, to generous sharing plates, their selection of tasty cuisines is sure to leave a flavorful impression to your overall trip to Bali. Don't forget to share a moment over their selection of fine cocktails, elevating your downtime to new heights. ASAI Cafe also offering a fantastic breakfast for you,
check out more here!
Try local street food at the Jimbaran night market
For an authentic taste of Indonesian and Balinese street food and local life, head to the Jimbaran Night Market, locally known as Pasar Malam Kedonganan. Open in the evenings, this lively market offers an array of inexpensive local favorite dishes like satay, fried rice, fried and grilled chicken, delightful Indonesian desserts, and more.
Though not touristy at all, this item on our list does offer a great answer to the question of what to do in Jimbaran at night. The night market or local food stall experience can give you a glimpse into the local everyday life while pampering your palate with various street foods! If you are a seafood lover, check out about
The Jimbaran Fish Market here!
Unwind and socialize at stunning beach clubs
Jimbaran boasts a selection of excellent beach clubs perfect for a relaxing evening. These venues are carefully designed for your indulgence, whether to soak up the beauty of the setting sun or luxuriate under the stars. Most of these establishments feature live music or DJ performances.
Hence, when it comes to what to do in Jimbaran at night, heading to the beach club is always a fabulous idea. And even more so if you wish to unwind with your favorite ones surrounded by tropical beauty. Check out our
Jimbaran nightlife recommendations here!
A Stroll along Jimbaran Beach
When unsure about what to do in Jimbaran at night, you can not go wrong with a leisurely moonlit stroll along Jimbaran Beach. The soft, golden sands and gentle waves create a serene setting for a delightful walk. It is also an excellent opportunity for stargazing, as Jimbaran's clear skies often reveal a breathtaking canopy of stars.
Explore Garuda Wisnu Kencana (GWK) at night
One of the best things to do in Jimbaran at night is to experience the magical GWK cultural park after dark. The 121-meter-tall statue of the Hindu God, Vishnu, riding the mythical Garuda bird, is just as awe-inspiring when illuminated at night.
To explore the park at night, it is best to arrive around 05.30 p.m. so you can catch the captivating Kecak Dance performed at 06.00 p.m. amid the breathtaking sunset views. After enjoying the performance, you can explore the park's grounds and gardens that emanate mystical beauty after dark.
The last guided tour starts at 08.00 p.m., and the park closes at 09.00 p.m. And if you want to confirm your itinerary of what to do in Jimbaran at night, you can already pre-book your tickets at
https://www.gwkbali.com/
.
Relax and rejuvenate at the spa
When contemplating what to do in Jimbaran at night, remember there is no better way to unwind and recharge after a day of island adventures than treating yourself to a soothing night spa experience.
Jimbaran offers a range of exquisite spa and wellness centers where you can escape into a world of relaxation. And yes, many open until 10.00 p.m., leaving you enough time to spend hours after sunset indulging yourself in refreshing spa treatments.
Check out the best spa in Jimbaran here!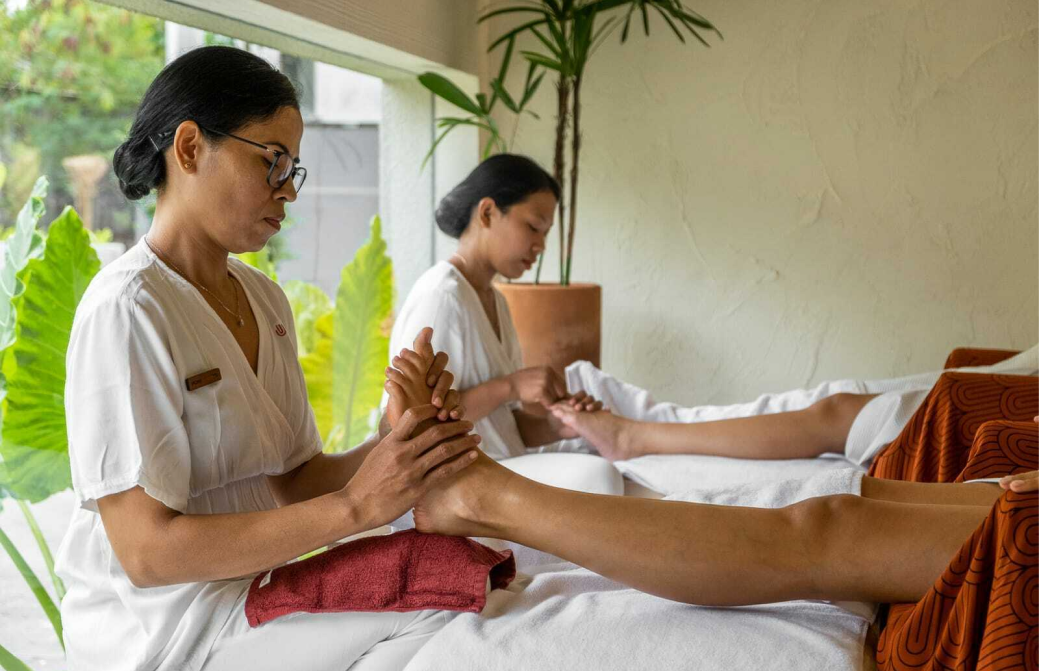 Late-Night Shopping
If shopping is on your agenda, Jimbaran offers various stores and boutiques that stay open late. So, if during daytime, you are too busy with all kinds of island fun under the sun, then shopping is one of the things to do in Jimbaran at night!

Jimbaran has plenty of stores where you can browse for souvenirs, clothing, jewelry, and local crafts. It is an excellent opportunity to find treasures and support local artisans while enjoying the town's evening atmosphere.
From the above list, it is safe to conclude that Jimbaran has something for everyone, even after dark. So, the next time you wonder about what to do in Jimbaran at night, consider these exciting options to make the best of your evenings during your stay in the lovely coastal town!