Are you looking to unwind and rejuvenate your mind, body, and soul while surrounded by the tranquility of Bali? Though it is not exactly known as the capital of yogis, Jimbaran has a lot to offer for those wishing to practice yoga during their stay in Bali.

Jimbaran offers a serene setting for practicing yoga on the island's southwestern coast. Plus, Jimbaran happens to be home to many fantastic yoga classes. Some of these classes are held in the most beautiful spots encompassed by nature, inviting your inner yogi to embark on a Jimbaran yoga journey!

Whether you are a beginner or an advanced yogi, the following are the best Jimbaran yoga classes where you can gain and maintain the balance of your body and soul.
The Yoga Rescue
If you're searching for a Jimbaran yoga studio that offers diverse classes and a warm welcoming community, The Yoga Rescue is an excellent choice.

This fantastic Jimbaran yoga studio is committed to spreading the joy of yoga and aims to inspire individuals to discover the transformative power of the practice. The Yoga Rescue offers Power Yoga, Ashtanga, Kundalini, and meditation classes taught by highly skilled instructors.

If you are planning to engage in an intensive Jimbaran yoga journey, it is worth noting that the Yoga Rescue also offers private yoga classes. And if you are not going solo on your Jimbaran yoga mission, the Yoga Rescue also tailors classes for groups.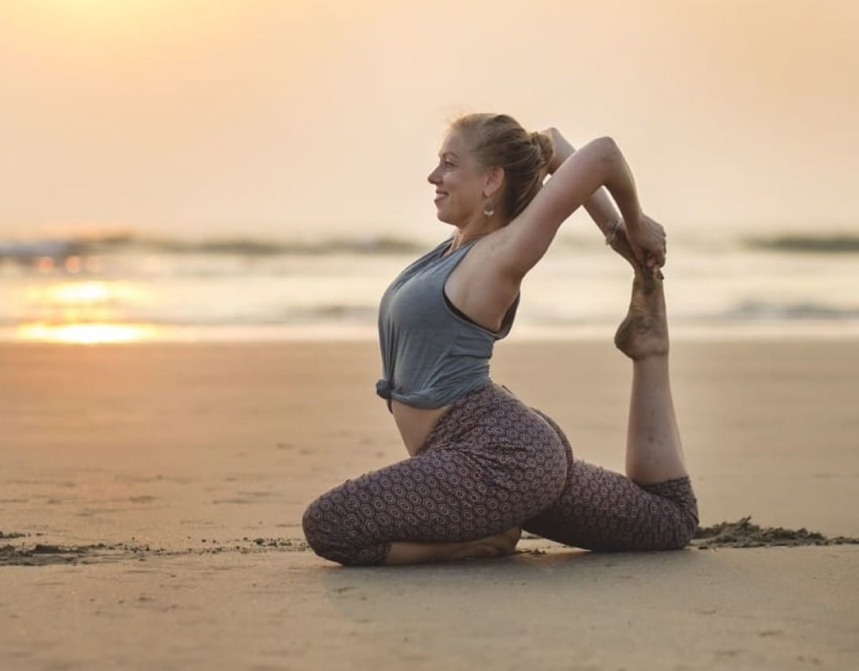 Desa Yogi
Desa Yogi is a Jimbaran yoga shala that specializes in Iyengar yoga. And Iyengar yoga is defined as meditation in action.

Led by an amazing instructor with experience teaching Iyengar yoga in California and HK, Desa Yogi offers a superb Jimbaran yoga experience, emphasizing alignment and precision of poses to achieve balance, flexibility, strength, and stamina.

Desa Yogi offers different types of passes, including Unlimited Passes, perfect for those looking to spend a lot of time practicing at this fantastic Jimbaran yoga shala. Those unsure about their schedule and availability to attend classes can always play their Jimbaran yoga sessions by ear and go for the Single Drop-In passes.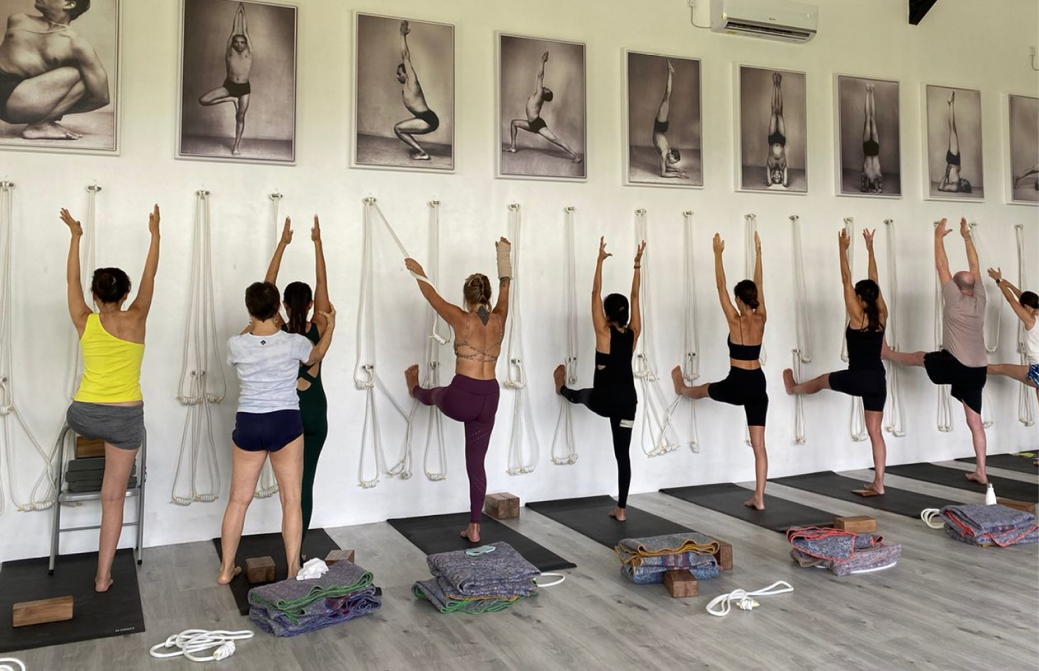 Karma Spa, Yoga and Wellbeing
If you're looking for a more intimate and cozy yoga experience, the yoga classes held at Karma Jimbaran Resort could be a wonderful Jimbaran yoga experience for you.

Nestled in the heart of Jimbaran, this boutique studio offers small group classes with highly knowledgeable instructors. The serene and warm ambiance provides the ideal environment for deepening your practice and finding your inner peace.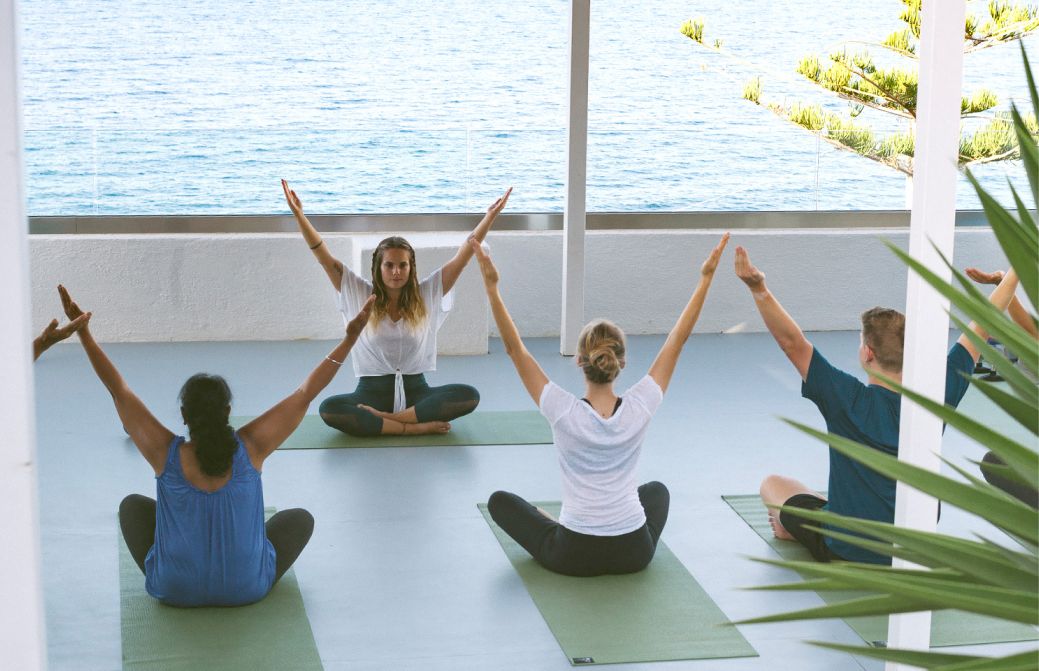 Balangan Yoga and Love at La Joya Balangan
Held at the stunning open-air yoga shala at La Joya Balangan, overlooking the majestic shades of blue, Balangan Yoga and Love offers Jimbaran yoga sessions that allow you to reconnect with both yourself and the natural beauty of your surroundings.

La Joya Balangan invites yogis to join their yoga classes for morning yoga (09:00 a.m. to 10:00 a.m.) and sunset yoga (05:00 p.m. to 06:00 p.m.). The classes generally focus on Hatha Vinyasa Flow. Although meditation is not the main focus, you can still get excellent mindfulness meditation experiences at these daily Jimbaran yoga sessions by the sea.
Blissful Hot Studio and Wellness
Blissful Hot Studio is the perfect Jimbaran yoga destination for those who wish to benefit from practicing yoga in a heated environment. Yes, this Jimbaran yoga studio specializes in hot yoga, which involves practicing yoga in a heated room. The heat helps increase flexibility, detoxify the body, and enhance the cardiovascular system.

Aside from hot yoga, Blissful Hot Studio also offers Vinyasa Flow yoga classes. While meditation is not the primary focus of Vinyasa Flow yoga, it incorporates elements of mindfulness and meditation, especially during the final relaxation pose, which is typically Savasana (Corpse Pose).
So, are you ready to immerse yourself in a delightful Jimbaran yoga experience? May you have an extraordinary healing journey with the allure of Jimbaran amplifying every single wonderful part of it. If you are looking for a place for stay in Jimbaran,
check out our accommodation here!
Namaste from Jimbaran, Bali!